Follow my blog with Bloglovin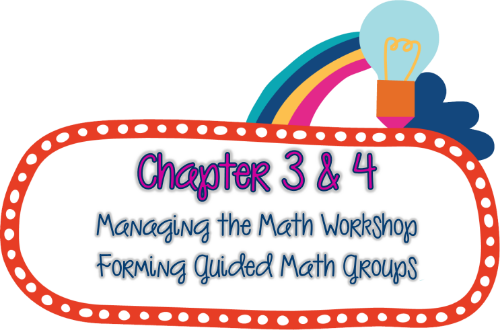 Today's post is supposed to be about Chapters 3 and 4 from Guided Math in Action by Dr. Nicki Newton (have I told you that you should probably own a copy of this book?) However, my family had a pretty dramatic event take place this week and I was only able to prepare my thoughts for Chapter 3.
What was the event you ask? Well, my wife gave birth to a little girl on Friday afternoon. Catherine "Kate" Alice Pearson is now a member of the family. Isn't she beautiful?
So, while my wife has been recovering the hospital and getting acquainted with our new little one and her eating and sleeping and pooping habits, I have been at home taking care of our other four children. My wife and I are the proud parents of 4 boys (ages 8, 6, 3, and 2). Needless to say, there has not been a lot of time for reading and writing over the past couple of days. With that in mind, I hope that you will allow me some leeway with this post.

---
Chapter 3 is all about setting up the Guided Math framework. Dr. Newton is big on Math Workshop, but, as I've said before, you can use whatever math framework works best in your particular context. Right from the start, Dr. Newton makes it abundantly clear that you have to start with the routines from the very beginning. Students thrive on routine. The sooner you can get your routine established, the easier it will be to have the students follow along.
Among the first things to establish are the rules, consequences, and rewards. Students need to know what is expected of them when they are working in math. We need to make sure that there are positive expectations for the students and that they are clearly posted so that there is no disagreement about what needs to be done. The consequences for breaking those rules must also be established and followed. Finally, the students need to know the rewards. The key that Dr. Newton pointed out was not to "bankrupt" the system. If the students earn the points, they need to know that those points aren't going to be lost.
The other key aspect of the chapter is to build a teacher's toolkit. A toolkit is supposed to be at your meeting area so that you are completely prepared when your groups come back to work. The toolkit should include folders that include examples of student work, materials for keeping anecdotal records on the students, papers, pencils, different supplies like scissors and glue, and manipulatives like cards, dice, and rubber bands.
Now to the questions:
Do you have a teacher's toolkit? At this point, I don't a specific "toolkit." Having read this, I am going to work on putting together the necessary items that would be included in a toolkit. My friend Sarah has a great post about what she includes in her toolkit. You may want to take a look at her post to get some more ideas about what to include in your own toolkit.
Do your students have toolkits? All of our materials are kept in a central location. I have a cubby cart that holds all of the number cards, dice, and math games that the students may need when working at centers. This cart also has the rulers and crayons, as well as extra pencils and glue sticks. I do need to figure out a better way to organize the pencils and the glue sticks because I honestly think my students were eating them. I have never gone through as many glue sticks as I did last year.
How do you establish routines/expectations? I make my expectations and routines known from the first day. My students are told the routines, they tell the routines to each other, and they repeat the routines back to me. After that we practice the routines and if they aren't done correctly (which they typically aren't), we do them again. It usually only takes a few times of doing it over for the students to get the idea of what is expected. Additionally, I also make signs to hang up so that the students will have a constant reminder of what they should be doing.

---
Well, that brings us to the end of another chapter. Please be sure to read the other blogs that are participating, especially since my post is missing Chapter 4. And, like most of have said, if you haven't gotten a copy of the book yet, you really should. Amazon.com has a pretty good price on it.